I'm
spending a lot of time re-reading or re-listening to books during the last
month and a half. The two series that earned this time from me?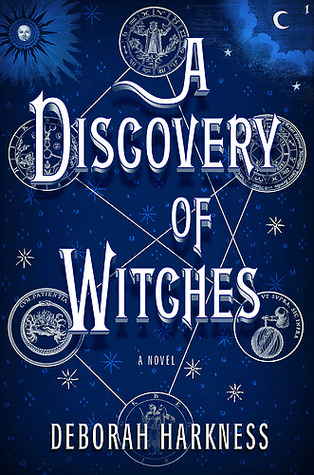 "No secret stays hidden forever."

A phone call from an old friend sets Dr. Giovanni Vecchio back on the path of a
mystery he'd abandoned years before. He never expected a young librarian could
hold the key to the search, nor could he have expected the danger she would
attract. Now he and Beatrice De Novo will follow a twisted maze that leads from
the archives of a university library, through the fires of Renaissance
Florence, and toward a confrontation they never could have predicted.

A Hidden Fire is a paranormal mystery/romance for adult readers. It is the
first book in the Elemental Mysteries Series.
A richly inventive novel
about a centuries-old vampire, a spellbound witch, and the mysterious
manuscript that draws them together.
Deep in the stacks of
Oxford's Bodleian Library, young scholar Diana Bishop unwittingly calls up a
bewitched alchemical manuscript in the course of her research. Descended from
an old and distinguished line of witches, Diana wants nothing to do with sorcery;
so after a furtive glance and a few notes, she banishes the book to the stacks.
But her discovery sets a fantastical underworld stirring, and a horde of
daemons, witches, and vampires soon descends upon the library. Diana has
stumbled upon a coveted treasure lost for centuries-and she is the only
creature who can break its spell.
Debut novelist Deborah
Harkness has crafted a mesmerizing and addictive read, equal parts history and
magic, romance and suspense. Diana is a bold heroine who meets her equal in
vampire geneticist Matthew Clairmont, and gradually warms up to him as their
alliance deepens into an intimacy that violates age-old taboos. This smart,
sophisticated story harks back to the novels of Anne Rice, but it is as
contemporary and sensual as the Twilight series-with an extra serving
of historical realism. The first book in the All Souls Trilogy.