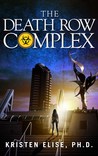 The Death Row Complex by Kristen Elise
My rating: 5 of 5 stars
This prequel to The Vesuvius Isotope is fascinating! Dr. Katrina Stone is still smart and sexy, but with this second book she becomes a little more human too. An excellent medical thriller that kept me anxiously reading long into the night, and home until I was finished! I just could not put it down! An intelligent read, and well worth your time.
Kristen Elise is an amazing writer! Her knowledge of the science is of course a solid foundation for her novels, but it's her storytelling that grabs hold of you and throws you into the story right along with Dr. Stone. I feel like I know Katrina, and I care about her. Only a skillful writer can create that kind of relationship for her readers.